"Following a recommendation from my architect and, now having experienced their service, I am delighted to pass that recommendation on to others. From the outset E³'s service was highly professional. They are clearly experts in Community Infrastructure Levy (CIL), but more than this, they are great communicators. Alun took time to understand my project, build a trusting relationship and fully answered all of my questions. E³ provided all of the information needed and helped me to understand the practical implications of each option. Alun was extremely effi cient in gathering and interpreting data to challenge the council's CIL Liability Notice and secure our self build exemption. He dealt well with my architect, my builder and my local council. In the end E³ reduced our original CIL liability from approximately £38,600 to nil, which makes the decision to use them a really clever one.

I could not recommend Alun and E³ Consulting highly enough."

Mr Smith, Owner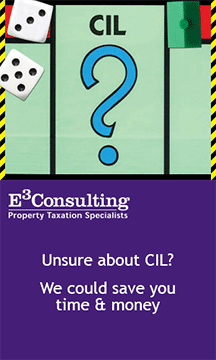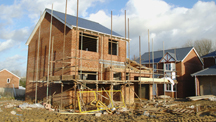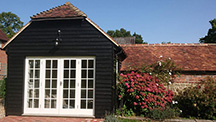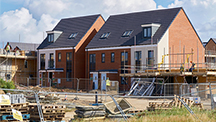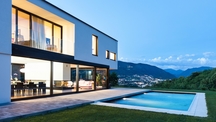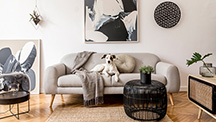 Tell us About Your CIL Project
Please complete your details to tell us about your project situation. We will respond as soon as we are able to.
LOCAL PLANNING AUTHORITIES (LPA)

CIL DOCUMENTS

| | | |
| --- | --- | --- |
| | | Across England & Wales over 180 LPAs have adopted the Community Infrastructure Levy (CIL) as one of the primary methods of funding local facilities necessitated by new development, alongside section 106 (TCPA1990). |
| | | Once adopted it will be mandatory, unless the Regulations give an exemption or relief, but these are not automatic. |

| | | |
| --- | --- | --- |
| | | The whole CIL process is very procedural and failure to submit the required forms at the right time can lead to penalty surcharges and interest on any late payment. |
| | | If required, you must complete and submit a series of CIL forms including the Assumption of Liability (Form 2) and a Commencement Notice (Form 6) and others subject to your situation/project. |
| | | The LPA may issue a Liability Notice and Demand Notice to trigger payment of any CIL assessed once permission is granted. |

CIL RISKS
OUR CIL SERVICES

| | | |
| --- | --- | --- |
| | | Failure to follow the Regulations and issue the necessary documents at the correct stage can create problems and increase your CIL liability. |
| | | Simple errors can make a very big difference – leading to £'000s in avoidable CIL payments. |
| | | Additionally, the LPA can impose Surcharges and Interest if payments are late or process steps not correctly followed – increasing your costs further. |
| | | IMPORTANTLY MOST FORMS OR ISSUES MUST BE COMPLETED BEFORE WORK COMMENCES. |
| | | Reviews (Reg.113) or Appeals (Reg.114) or other available challenges to the numbers or procedures are time sensitive so must be actioned within strict time scales. |
| | | Early advice ensures you have options and understand these complex Regulations and avoid costly errors. |

Our experienced team can help you:

Understand the CIL Regulations.

Review how YOUR project is impacted by CIL.

Validate CIL calculations – or parts thereof:

| | | | |
| --- | --- | --- | --- |
| | | | Floor Areas, |
| | | | CIL Rates and |
| | | | Indexation adjustments. |

Advise & secure Exemption and/or Relief.

Draft, complete and submit required CIL Forms.

Manage and undertake challenges, reviews or appeals.

Expert support for Litigation/Dispute Resolution.
Why work with us? 
We are an experienced group of award-winning property taxation specialists who are passionate about helping businesses and individuals with their property tax. While CIL isn't technically a tax, it began in 2010, and we have made it our mission since the self build exemptions were introduced in 2014 to assist developers and homeowners find a pathway through this perilous levy so you aren't caught out by its strict, and uncompromising procedural nature. Investing in experience and knowledge from the beginning of your project can save you thousands down the line, reduce your CIL liability and avoid unnecessary stress and anxiety.
CIL is extremely time sensitive and once you have begun your development project it could be too late, so act fast and contact our friendly team and see how we can help you. 
Local Planning Authorities (LPAs) are not perfect and even they can make mistakes when it comes to CIL. Take the fear out of planning and rely on our industry knowledge, with the understanding that we will do all that we can to support you through the process. We also help undertake reviews of CIL liabilities as well as raising formal challenges and appeals on particular technical aspects, or to correct errors made by the LPAs… we are all human!
Let us take the anxiety out of planning and speak to one of our CIL advisors today.