E3 Seminars & Workshops
We offer tailored seminars or smaller interactive workshops to clients and prospective clients; as well as property, law and tax professionals. Explaining how property tax savings can be optimised - in this highly technical area of property taxation, reliefs & fiscal incentives.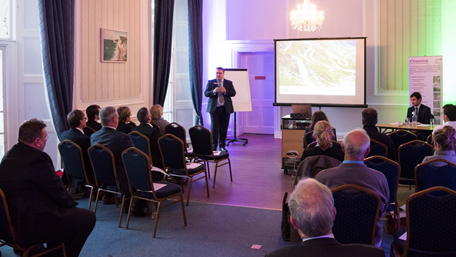 Who Will Benefit From Attending?
E3 Consulting regularly run CPD/CPE seminars, also annually holding a small number of workshops, informal roundtables, luncheons & dinners on a range of property tax topics. These help us to keep in touch with our existing & prospective clients, their advisors and others in the property, law or finance sectors. Helping to keep them updated on the ever changing property taxation legislation and case law, so as to help avoid expensive mistakes. These gatherings are aimed at those involved with commercial property and construction whether they are:
Investors
Contractors
Developers
Entrepreneurs
Financial Controllers/Managers
Financial Directors
Managing Directors
Owners
Occupiers

Accountants
Architects
Consulting Engineers
General Practice Surveyors
Planners
Quantity Surveyors
Solicitors
Tax Advisors
Tax Managers/Directors
Proactive Tax Planning
Too many accountants and taxpayers fail to consider the tax saving opportunities early enough, if at all. Tax-payers often assume their professional advisors, whether the design team, surveyors, contractors, solicitors or accountants, have "considered all the options". The reality we see as property taxation specialists is that these allowances are rarely reviewed comprehensively nor considered proactively early on in construction or acquisition.
E3 Consulting's award winning team are able to offer specialist advice on the availability of tax allowances both in design or pre-acquisition, and the potential for worthwhile tax relief before, during and after the project. As these can change the viability of project, with potentially significant cash flow benefits immediately, especially given the attractive first year incentive of the Annual Investment Allowances (AIAs).
We are often introduced early on in the design process to bridge the communication gap between the client, their professional advisers and wider project design team. Our input enables the client to make well informed, robust, business decisions; ensuring a claim can be optimised and fully substantiated.
Whether you, or your client's, projects involve large scale commercial property portfolios or smaller scale individual properties, such as furnished holiday lets (FHLs), we can help. An overview of Capital Allowances, VAT, CIL and other specialist property tax issues will give you a better ability to spot opportunities, internally or on behalf of your current clients, generating property tax savings – truly adding value as well as steer around any pitfalls.
Our Informative Events
Our seminars, tailored workshops & roundtables can be held throughout the UK, with recent events in the South West, South East and London, as well as previous locations such as Cardiff, Edinburgh, Ipswich, Manchester or Stratford-on-Avon, to name a few. Our events cover a broad range of themes and issues including:
Capital Allowances
Land Remediation Tax Relief (LRTR)
Community Infrastructure Levy (CIL)
Value Added Tax (VAT)
Business Premises Renovation Allowance (BPRA)
Changes in the New Fixtures Rules, brought on by FA 2012/14
Sector specific focus such as automotive, FHLs, health, leisure, logistics, student accommodation & utilities
Updates on property tax topics and issues
Market comment on commercial property
Tax Relief of Remediation of Arsenic, Asbestos, Japanese Knotweed, Radon & other pollutants
Commentary on international property tax issues such as cost segregation
Our events are friendly and informal to encourage some debate and discussion around the issues and also provide opportunities for networking with likeminded individuals.
Experienced Advisors
E3 Consulting has consistently identified enhanced tax savings on more than 80% of cases reviewed. Given the frequent and significant changes in property taxation over the last few years, it is critical to engage competent and experienced advisors familiar with the operation of the legislation – able to prepare detailed and substantiated claims - robust to HM Revenue & Customs (HMRC) scrutiny - should they review, or seek to challenge, the tax claim or return.
E3's specialist team is nationally recognised, having won the Tax Award in 2011 for Best Tax Consultancy Team and a shortlisted finalists at each of the 2019, 2015 and 2014 Taxation Awards; as well as one of the Top 5 Specialist Teams at Accounting Excellence Awards 2019.
We can help with distinct ad hoc stages of work, or the entire project from start to finish, to optimise the tax savings available. If you are interested in hearing more about our property tax workshops & roundtables, or wish to organise a CPD/CPE event please contact one of our team.