Todd Arnison
Property Tax Surveyor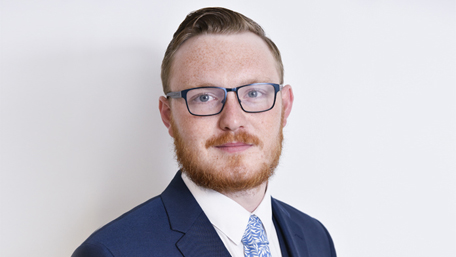 Role
Todd is a Property Tax Surveyor, who recently joined the E3 Consulting team in October 2017.
He is currently undertaking a Chartered Surveyor Degree Apprenticeship; completing a BSc(Hons) Quantity Surveying degree, through day release from the office, one day a week, at the University of Portsmouth.
Todd spends the other four days, in with the rest of the team, learning from the vast experience on offer at the firm. This is mostly in relation to client project work; however he also works with others to deliver on sales, marketing, and operational aspects of the business – all contributing to his development and experience towards becoming a Chartered Taxation Surveyor.
Experience
Todd has worked on a variety of projects in many sectors whilst being with E3, including: automotive, commercial, hospitality, health care, industrial and residential. In particular, he took on and successfully managed the complex property tax analysis of a £30m hotel project, whilst achieving great results for our client - with some 71% of the project costs being identified as eligible for tax relief.
Clients and their teams have described Todd as "integrally involved in the relationship between E3 Consulting and our property advisors" and "consistently professional and thorough in all their work"; as well as saying "Todd produced an exceptional claim for us".
Career & Qualification
Todd grew up in the Southampton area, attending school and college in Totton. Having achieved grades ABB at college, in Mathematics, Further Mathematics and Chemistry, respectively, he continued working full-time, as he had been previously in his final year of college. He gained valuable experience in Catering & Hospitality working for a leading global restaurant brand.
However, Todd ultimately decided to change his career path into a business that could provide a broadened intellectual challenge for him, on a day-to-day basis as well as establishing a longer term professional qualification and career. Knowing that to do this he would have to invest in further educational qualifications to climb up the career ladder, he understood that this hybrid position based both in the office but alongside university would be the perfect opportunity for him to achieve this goal; learning something new and being able to be challenged through the academic studies, whilst underpinning this all with real experience.
In May 2018 Todd received his Level 3 certificate in Coaching and Mentoring from the Chartered Management Institution, after attending time at the local college developing his coaching and mentoring skills. This has been put into good use within the business where he has been helping other team members develop their confidence and skills in the work environment.
This 'on-the-job' learning provides a structured and informal way of training, whereby Todd can develop soft-skills such as his communication in a brand ambassadorial role, within the networking events that he joins. Regularly attending events such as, regional Chamber meets, and sponsored breakfasts and luncheons, Todd creates a learning environment by which he has a boundless source of knowledge to grow his industry and commercial awareness.
Personal Information
Sports have always been a large part of Todd's life. From a young age he has been a part of many sports teams, inside and outside of school. These include, but are not limited to; football, rugby, cricket, athletics, badminton, basketball tennis and table tennis. He played football from the age of four, and has grown up to support Manchester United, spending many a weekend and evening focussed on being able to watch as much football as possible; especially Man Utd.
To relax, Todd enjoys watching TV series and films. However, he really enjoys getting out of the house with his girlfriend and spending time with the horses, a completely new experience for him. As he helps her break in, Ryder, her new Arab/Irish Sport Horse, and going out hacking when time permits, Todd is developing his knowledge and understanding of world he had never been involved in before.