Ed Oxlade
Business Research Analyst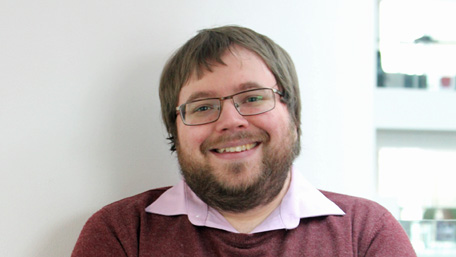 Role
Ed is a Business Research Analyst and joined E3 Consulting in 2018. His responsibilities include being responsible for research & analysis across key sectors including Automotive, Pubs, Hotels & the Health Care sector. Ed supports the technical team by inputting detailed property & construction data, maintaining client records & including archiving. Ed contributes also by reviewing & proofing documents & overall supporting the E3 Team overall.
Career & Qualifications
Ed grew up in Southampton. In 2010 – 2012 he studied and gained a diploma is Animal Management, level 3, at Sparsholt College, Hampshire. His studies on this course took him to Kenya, South Africa and Swaziland.
Ed had intended to go into an animal related career, but finding a suitable placement proved to be extremely difficult. This resulted in Ed being out of work for four years, eventually resulting in a massive drop in confidence and associated mental health issues.
In 2016 Ed was diagnosed with Autism and worked with the Wheatsheaf Trust, a Southampton based charity who work to improve the situations of individuals and families across Hampshire, by supporting them into employment, education or training. Through the Trust's Bridge2Work scheme, which offers paid work placements to help build their confidence and resilience; Ed was placed with E3 Consulting on a six month trial placement to help build his confidence and skills. He was formally taken on by E3 at the end of his placement in June 2018. Ed's wellbeing and mental state has improved drastically since joining the small, friendly team at E3.
Personal Information
Ed is a long time science-fiction fan, especially Doctor Who, Star Wars and Star Trek. He is a collector of Doctor Who memorabilia, and has a number of rare toys from the 80's and 90's that are now considered collectors' items.
He has a fascination for different cultures and enjoys learning about them and their related histories. In relation to this he enjoys coin collecting from around the world, mainly focusing on the 1800's onwards. One of his favourites in his collection is the square one pound coin that was only minted in 1981 on Jersey, the Channel Islands, to commemorate the Battle of Jersey.
He is quite active in hand puppetry, and full 'mascot' costume style performing. He frequently travels abroad to preform charity fundraising events. These are unscripted performances involving mingling with and entertaining the general public. Ed previously attended a fund raising convention in Sweden for the charity Assistenhunden (Assistant Dogs). Assistenhunden is an organisation that specialises in training a wide variety of service dogs for people who need one. 92.659 SEK (£7,876.94) was raised during the event. More recently Ed attended a fund raising convention in Birmingham for the Vale Wildlife Hospital. The Vale Wildlife Hospital is a wildlife rescue, treat and rehabilitate centre. During this event an impressive £26,037.40 was raised.