Application Form
After the initial application the next step, for shortlisted candidates, is to ask them to complete our application form.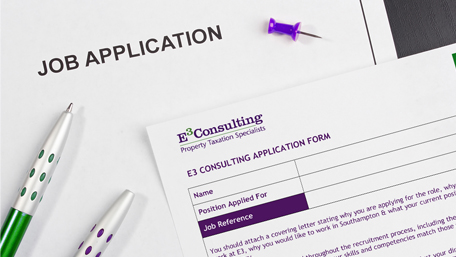 Once we have reviewed an applicant's covering letter and CV the next step, if the application is successful, is to ask you to complete the E3 Consulting application form in full; whether applying for a temporary or permanent position.
The application form is structured in a manner with particular job roles in mind and giving direct consideration to the base line required competencies. It is benchmarked and allows E3 as an employer to objectively review applications. As an employer we are actively looking holistically at the whole person, all the way through the recruitment process. The application form allows us to get a better sense of you as a person not just your direct suitability to the role but also how you might fit in as part of the E3 Consulting team.
A key tip is to tailor your application as much as possible. The more effort that goes into your application, the more you are demonstrating your genuine interest in the particular job in hand. The application form can also be a valuable opportunity for you to clarify & qualify your experience and skills to yourself in an evidence based manner; helping you prepare for a telephone or face-to-face interview.